Through Orange Haze: Recapping IAB Tech Lab's Summit in NYC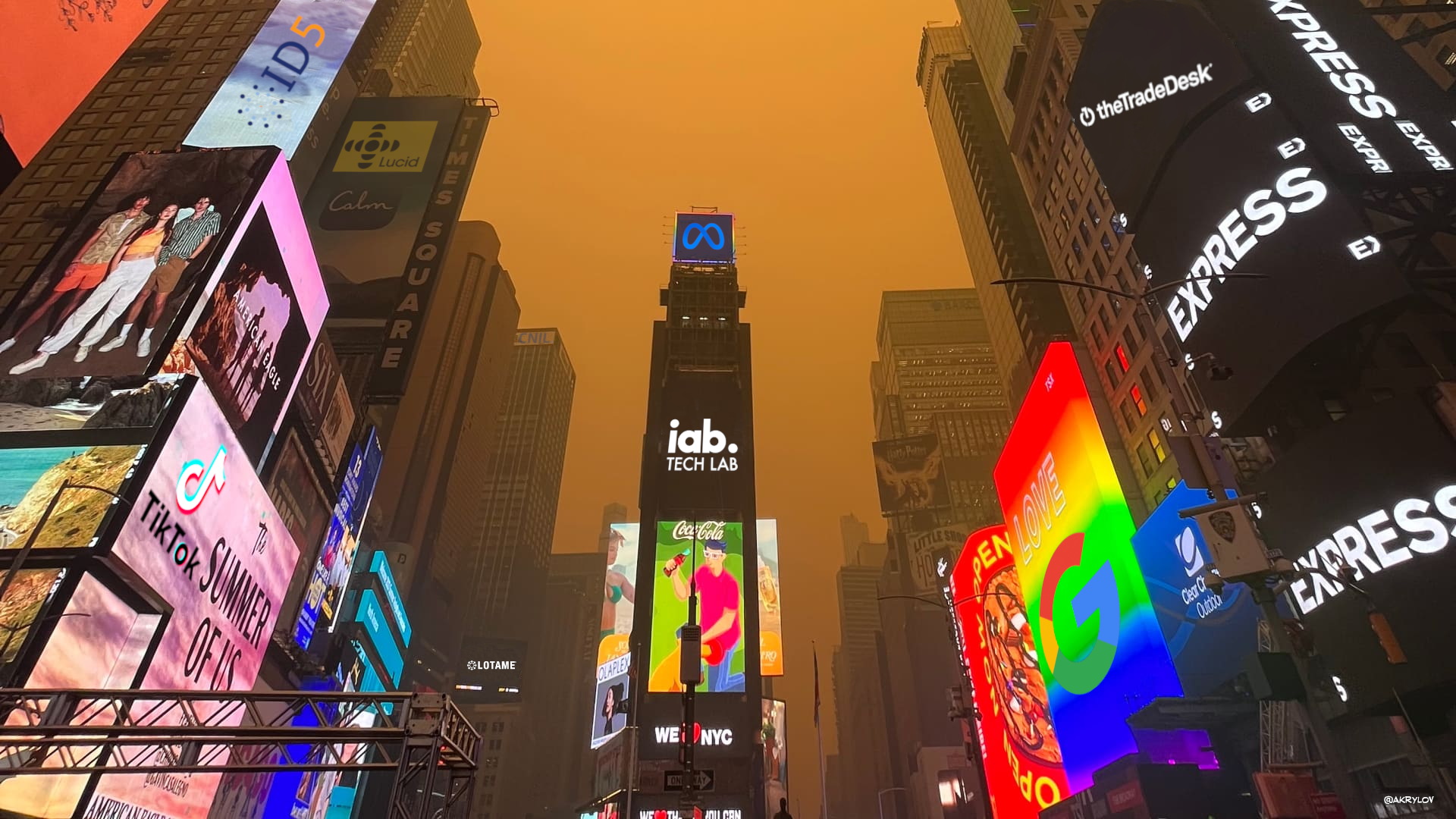 Earlier this month I had the pleasure of attending IAB Tech Lab's IMPACT conference in midtown Manhattan. Digital advertising professionals gathered together to discuss pressing issues and learn from industry specialists, catch up with friends and clients, and fret about the Blade Runner-esque air conditions outside.
The irony of international fires marring an adtech event was not lost on many, but the general vibe was one of optimism -- that dark clouds shall pass, and the industry will be all the better for it in the end.
Across the many presentations and breakaway sessions, a number of connected themes emerged:
AI x Adtech: AI is coming for media planning, budget, creative and campaign optimization, as well as personal data overcollection and objectionable content.
Privacy x Universal IDs: Privacy is caught in the middle of an increasingly competitive landscape of post-cookie solutions. Brands and privacy advocates have reason to be skeptical -- the "F" word (fingerprinting) and "R" word (re-identification) remain real concerns.
GPP x IAB Future: The IAB's evolving solutions present a real shot at a consistent, interoperable, and now cross-jurisdictional approach. Adoption and compliance challenges remain but these are good (and solvable) problems.
AI x Adtech
Open source AI is poised to have a profound real world impact on digital media, not the least of which are privacy net-positives.
Angela Fan, lead AI researcher at Meta, walked us through the company's advancing image co-creation and tagging capabilities, and then joined a panel with Mindshare's Michael Palmer, Amazon's Neal Richter, and Google's Dan Taylor to discuss the shifts we should expect to see over the next 12-18 months.
Media planning. More 'punctuated evolution' than revolution 1.5 decades in the making, AI assistant agents are now capable of taking on basic agency tasks. For example, one AI case study touted success over a team of human experts in planning for reach across three overlapping audiences. For small publishers, this also means learning more about their best audiences, without a data science degree.
Budget allocation. Predictive AI tools can analyze historical performance data, identify trends, and make real-time adjustments to ad campaigns and ensure an optimal allocation of 'softening' advertiser budgets.
Creative optimization. DALL-E and Midjourney have shown generative AI to be powerful. Adobe Firefly is promising to be another leap in assisted design. Professional generative AI can automate content creation based on natural language prompts and artist workflows, translate and localize content, and then move to A/B testing across multiple formats and generations.
Campaign optimization. By analyzing historical performance data to identify trends, algorithms can already make real-time adjustments to ad campaigns. But with AI copilots it's about the cumulative impact of better planning, spending and selecting.
Setting aside audience jokes of AI agencies working with AI artists, buyers and sellers to market to AI users' agents, conversation turned to real world consumers. Will this not lead to more data gluttony? Panelists did not believe so.
unBig Data. A move to proprietary models and the benefits of holistic analysis promises to calm data collection FOMO and boost the value of gently targeted and contextual ads. Yet, concerns remain. The very human notions of bias, harm and appropriateness must be addressed alongside data privacy.
Users and brands, safe. As Tiktok's Bahar Bozdogan demonstrated in a later session, safety AI is rapidly advancing too. For example, TikTok can now interpret sexual hints when emojis are used, and combine that with multiple textual, video and audio signals to flag harmful content while giving advertisers more filtering control.
Privacy x Universal IDs
As cookies continue to crumble and mobile becomes increasingly more opaque from privacy-related 'signal' loss, the ad industry has been growing a diverse ecology of identity matching and device resolution solutions that promise to be more privacy protective than what came before.
At the event, three prominent alternative ID providers weighed in on the challenges of adoption, scale and, persisting user choices in cookieless environments.
Tale of the tape
Unified ID 2.0. Provides a publisher-focused solution leveraging double encrypted emails and phone numbers, and supporting a Single Sign-On for publishers who do not wish to share subscribers with Google etc.
Lotame Panorama ID. Provides a DSP/SSP focused solution using multiple graphing points centered around a device ID. The company claims their solution gives them a way to offer clients and partners 'frictionless matching'.
ID5 ID. Provides an independent solution using deterministic and probabilistic methods to produce composite IDs. ID5 positions themselves as an interoperable identity infrastructure provider, unconflicted by business models dependent on media buying or data selling.
All three identity resolution providers say their solutions are grounded in user transparency and choice, with opt-ins/opt-outs appended to the assigned ID. However, adoption and permissioning at a statistically meaningful number (e.g. >20%) faces a number of hurdles.
Familiar challenges
Privacy vs free content. During a spirited panel with Lotame's Eliza Navers, ID5's Mathieu Roche called 'privacy' "a misnomer" in relation to ad-supported media. The argument is that if consumers want access to content, they realistically have two options -- pay for the service or share monetizable data. This means users need to grasp the value they receive from a 'free' Internet and be willing to give up some privacy in exchange. And if such data is no longer 'private', then the GDPR's 'data protection' is a better fit for the responsibilities the value exchange conveys.

We must note that proponents of contextual ads disagree there are only two options.
Permissible access. One of the issues with cookies is they are crumbly and flaky. Users can delete them at any time and for any reason, including those logging opt-ins/opts. This challenge largely disappears with alt IDs. For example, ID5 encrypts its ID along with user preferences as a local storage object, which is harder for average users to delete.  

Which in turn requires…
Scaling consent. Alt ID providers face a major hurdle -- obtaining enough user consent to meet advertisers' campaign goals. This is not straightforward for infrastructural as well as cultural reasons, and the bar will be especially high in certain jurisdictions.

For example, IAB's Transparency and Consent Framework provides a standardized means by which consent can be surfaced and passed to, say, ID5, to make their ID. But in TCF-less markets like Japan where opt-in is newly required but CMP adoption is slow, and where contextual ads are preferred and access to ad spenders is gate-kept by massive agencies, the question of How many opt-ins is replaced with How?
Device resolution. Since 2019 Apple has been making it progressively harder for 3rd parties to track users through deterministic and probabilistic means. Apple also broadly bans fingerprinting. Armed with Privacy Manifests for iOS 17, Apple is expected to reject more apps and blacklist SDKs found violating this policy, which can include probabilistically-inclined alt ID providers.
In a heating climate where insights from preexisting identifiers decline alternative ID providers create new matching and attribution opportunities for brands. But they will need to sink or swim based on choice – of consumers and prospective customers. And this all seems nascent in scale at the moment.

Which brings us to...
GPP x IAB Future
On 16 May 2023, IAB Europe launched v2.2 of its Transparency and Consent Framework (TCF). Changes were in response to evolving industry and consumer needs, and importantly to fulfill commitments made to the Belgian Data Protection Authority (ADA) in the wake of its controversial ruling against the trade group.
One year earlier, IAB Tech Lab announced the launch of its Global Privacy Platform (GPP).
Fellowship of the ping. As covered by Yieldmo's Mark McEachran, OneTrust's Ethan Sailers, and IAB Tech Lab's own Rowena Lam in a packed breakout session, GPP looked primed and ready to put in front of consumers. Publishers comfortable setting up TCF for European compliance will find GPP for US compliance a snap. Why GPP and not TCF? If you missed it, IAB Tech Lab is deprecating the US Privacy String, which was 'TCF for California'. To meet the changing times, signals meeting California and Virginia, Colorado, Connecticut and Utah requirements will be consolidated into GPP.  
One tower, not two or three. This is compliance by design. A single protocol that simplifies the transmission of privacy signals aligned to a growing panoply of regulations is a sustainable path forward. While currently focused on European and North American adoption, IAB Tech Lab is looking at more US states (they're coming), and expansions into Latin America and Asia-Pacific in the near future.
Return to the beat. GPP is more than a TCF defrag mechanism. By providing a standardized, interoperable compliance protocol for the digital supply chain, the hope is to also make it easier for self-regulatory bodies to monitor compliance.
To that end, IAB Tech Lab has been encouraging members to join the newly formed Privacy Implementation & Accountability Task Force (PIAT). The PIAT's mission is to develop modern best practices, set audit standards and encourage innovation in privacy enhancing tech (PETs). The hope is this will do more than satisfy promises to the Belgian DPA. Other regulators and privacy advocates, and let's not forget ad spenders, are watching too.
Cause for optimism
In his account of the Bomber Mafia, best selling author Malcolm Gladwell offered that in the intersection of innovation and human nature it is important to learn from the past and strive for a realistic future.
From AI-powered efficiencies to privacy mindful ad revenue models and cross-border compliance standards, the industry's evolving solutions present a real shot at making it so. Will regulators and consumers be receptive to these pragmatic efforts? I'm crossing my fingers… and KN95 mask straps.